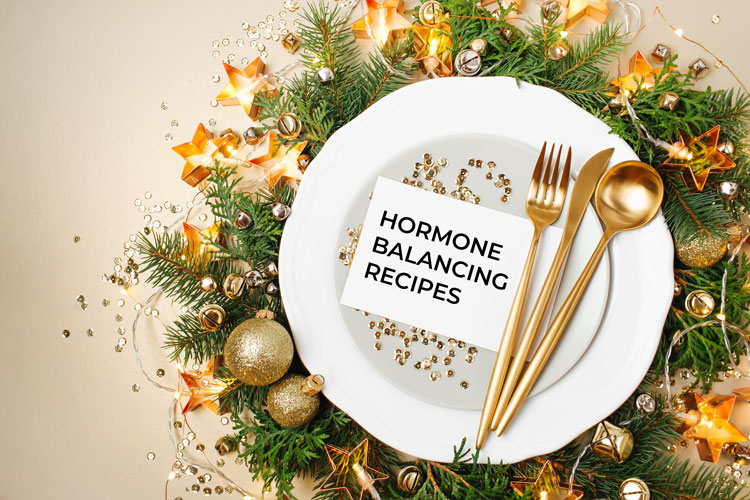 If, this Christmas, you want to spend more time with your loved ones and less time in the kitchen, you will need to do some prep work beforehand! This will allow you to serve up delicious, nourishing, seasonal dishes, with some luxurious touches to celebrate, without having to slave over a hot stove all day. We have put together some of our favourite hormone balancing recipes for Christmas day.
All of our nutritious recipes can be made in advance. You can also double or triple the amount of ingredients in each recipe to increase the quantity of food – just adjust cooking times where applicable.
Even better, we have included some recipes for dips that can be enjoyed on the day, or used as personalised Christmas gifts presented in lovely little jars.
Looking After Your Gut Health At Christmas
For many, Christmas is a time for relaxation in terms of taking time away from work, spending the festive period with family, and even letting go of dietary restrictions. However, just because the alcohol may be flowing and the Celebrations are being passed around the room in constant rotation, doesn't mean that you have to give in to pressure if your aim is to keep your gut health and hormones well balanced.
Unfortunately, your health doesn't take time off over Christmas, and while a few treats in moderation may not make a huge impact, you will ultimately benefit from making healthy choices throughout the holiday season. These include:
Eating nutritious, whole, low glycaemic index (low GI) foods
Getting regular exercise (don't skip your Christmas day walk!)
Managing stress
Getting adequate, consistent sleep
Your diet, level of activity, stress levels and sleep are all factors that contribute to your gut health, which in turn affects your hormone function. Your gut contains a microbiome of important bacteria which must stay balanced in order to support normal bodily functions. Imbalance can result in the worsening of hormonal symptoms; poor macro and micronutrient absorption; and an impacted immune system.
These recipes contain ingredients that help to sustain the balance of bacteria in the gut, enabling normal hormone function, and in turn maintaining your wellbeing.
Learn more about the gut and hormonal balance.
Enjoy And Have A Very Healthy And Happy 2022 Christmas!
The Menu By The Marion Gluck Clinic
Our Christmas recipes will help to balance your hormones this festive season.
Starters
Main Course
Dessert