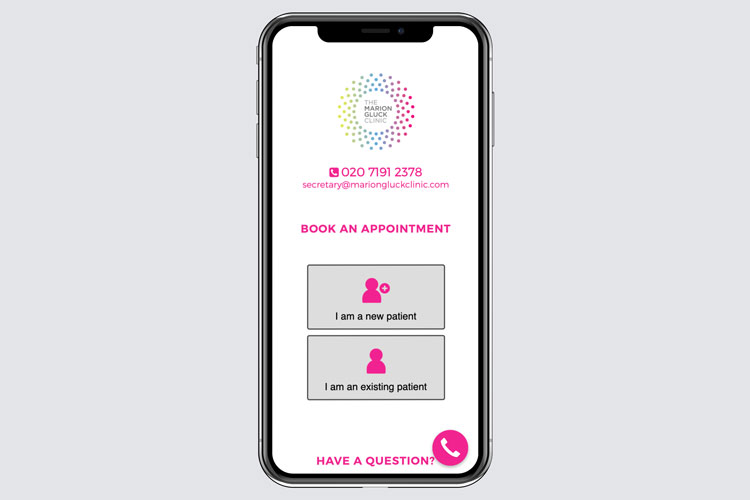 In March of this year, when the reality of the COVID-19 pandemic became apparent, our first thoughts were with those who had lost their lives and their families. As healthcare professionals, we are used to each day dealing with the health concerns of individuals. With the pandemic, we saw a health crisis unfolding on a global scale.
Even before the Government announced the first lockdown, we acted quickly to protect the safety of our patients and staff. In a matter of days, we had closed our clinic on Wimpole Street and moved all of our bookings to telephone and video consultations. Our incredible Patient Care Team took on the gargantuan task of calling hundreds of patients to change those bookings – and did a remarkable job.
And just like that, the Marion Gluck Clinic went online.
Sometimes a long overdue change is forced upon us by events out of our control. We've learned a lot operating as an online clinic over the last six months. We've learned that many of our patients prefer to speak with us from the comfort and convenience of their own home. We've also learned that there are many patients in parts of the UK for whom traveling to London every few months was too much of a barrier. The change also means that our doctors and staff can enjoy improved quality of life and personal safety in this time of uncertainty.
We've come to believe that the indefinite shift to an online clinic is a win both for our patients and our staff. With this change, we have a new mission of making our life-changing hormone balancing treatments more accessible than ever for patients across the UK, bringing the same quality of care and personal focus as always while removing as many barriers as possible.
We've just started on this journey, and over the coming weeks and months you can expect changes to the way that we operate. Most recently, we have made it much easier for new and existing patients alike to book consultations online via our website. While a seemingly small change, the response has been overwhelmingly positive. We will continue to make starting and continuing your path to better quality of life as frictionless as possible.
Because in the end what matters most is your health.
Marion.