We want you to feel confident that you know exactly what to expect from your experience with the Marion Gluck Clinic. Although your treatment path will be completely bespoke and as individual as you are, your patient journey with us will follow a specific route, which we've outlined below.
You can rest assured that we're here with you every step of the way.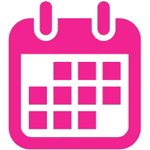 24 HOURS LATER - PERSONALISED PLAN
A member of the team will contact you to help arrange everything from sending blood test instructions to referral letters for investigations and booking your review appointment.
24 HOURS LATER
Order your bespoke medication via the Specialist Pharmacy portal.


AROUND 8 WEEKS LATER
You should be able to notice changes in your symptoms whilst taking your BHRT medication.


* It is recommended that you contact the clinic if you experience any adverse symptoms and book an appointment sooner with your doctor.
Should you have any further questions please visit our FAQ page.
Ready to Begin Your Journey to Hormone Balance?
Start your journey back to optimal hormone health at Marion Gluck Clinic, the home of hormone balancing in the UK.

Book an appointment

secretary@mariongluckclinic.com