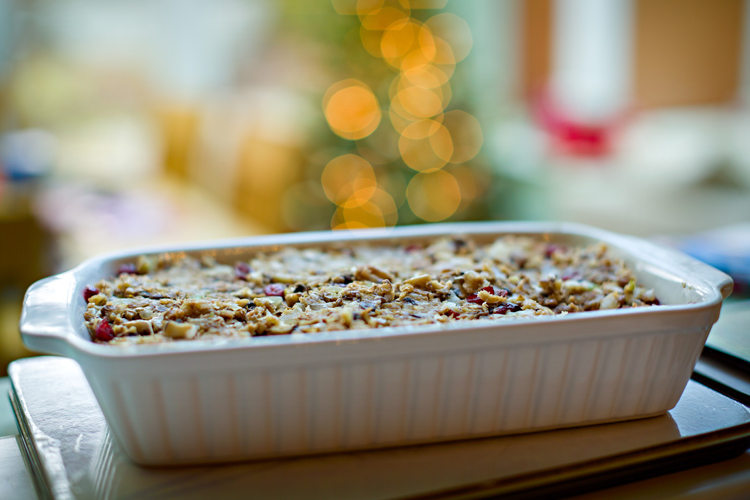 What a way to impress your vegetarian friends! Usually, with our mushroom and nut roast recipe, meat-eating family members are tempted to take a slice, too.
As well as being a delicious main meal, this is also ideal as a side dish to your family's famous roast pork, turkey or ham. Nut roast is a hearty, filling dish. This recipe is packed with mushrooms which provide vitamin D, an important nutrient for strong, healthy bones as it helps the body utilise calcium.
We also use tempeh in this recipe, a fermented food made of soybeans which has a firm texture, earthy flavour, and high protein content. It contains beneficial bacteria that help maintain a healthy balance of good bacteria in the gut. We also use nuts and seeds in this recipes as they not only taste great, but are a good source of fibre, healthy fats and plant protein.
Some people find nut roast to be quite dry. The key to cooking a good nut roast is to avoid overcooking it, as it can become crumbly if cooked for too long. And of course, you can serve it with gravy or sauce of your choosing.
TIP: Try to have a small handful of nuts and seeds every day, sprinkled over your breakfast, salads, curries and more.
Makes: 4
Takes: 1 hour 10 minutes
Ingredients:
Olive oil
1 red onion, finely chopped
2 cloves garlic, finely chopped
2 cups finely chopped mushrooms
200g organic tempeh, crumbled into small pieces
1/2 cup celery, finely chopped
3/4 cup carrot, grated
1 cup mixed raw nuts, roughly chopped
2 eggs, lightly beaten
1 cup cooked brown rice, cooked day before and kept in the fridge
1 heaped tsp paprika
1 tbsp honey or maple syrup
Sea salt & pepper to taste
1 tsp dijon mustard
To serve: Handful of herbs (basil, parsley, coriander or rosemary), roughly chopped and a handful of nuts or seeds
Method:
1. Preheat the oven to 180C (fan 160C).
2. Saute onion, garlic and mushrooms in a frying pan with a little olive oil until soft. Combine all ingredients in a large bowl until well combined.
3. Place mixture in a loaf tin lined with baking paper.
4. Bake for about an hour or until a skewer comes out clean from the centre.
5. Before serving, top with fresh herbs and nuts/seeds.