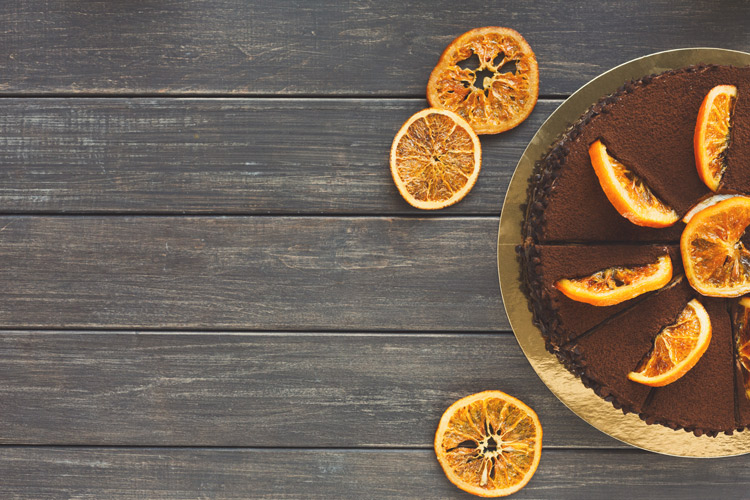 Chocolate and orange are the perfect combination of flavours for a warming winter dessert! However, while store-bought cakes may be full of preservatives and high sugar levels, our luxurious homemade cacao and orange cake can bring a multitude of benefits to the table.
Orange rind is abundant in flavonoids, which act as powerful antioxidants and have anti-inflammatory action. It has also been found to help reduce the risk of skin and lung cancer.
Chocolate, when in its raw cacao form, has many benefits, including promoting heart and cardiovascular health. Polyphenols in cacao can prevent bad LDL cholesterol from clogging up arteries, lower total cholesterol and reduce blood pressure.
Makes: 1 cake
Takes: 2hr 45 minutes
Ingredients:
2 organic oranges (when using whole fruit, use organic)
2 cups almond meal
5 eggs
1/3 cup raw honey or maple syrup
1/3 cup raw cacao powder
1 tsp bicarb soda
1/2 tsp baking powder
1/2 tsp vanilla bean paste
Fresh fruit for decorating
Coconut yoghurt or fresh whipped cream to serve
Chopped pistachios (very rich in vitamin B6)
Method:
1. Preheat the oven to 170 C (fan 150 C). Grease a large cake tin with coconut oil and line the bottom with baking
paper.
2. Place whole oranges in a large pot of boiling water and simmer for 1 hour with the lid on.
3. Once oranges are cooked, remove from water, cut into quarters and place in a food processor. Add all other ingredients and blend until mixture is smooth and well combined
4. Pour the mixture into the cake tin and bake for 50-60 minutes, until a skewer comes out clean from the centre. Let it cool.
5. Decorate with heaps of fresh fruit: sliced blood oranges, blueberries, raspberries, quartered fresh figs all work well, maybe a sprinkle of chopped pistachios as well for the festive touch.
6. Serve with coconut yoghurt or cream with some cinnamon stirred through to balance sugar levels.