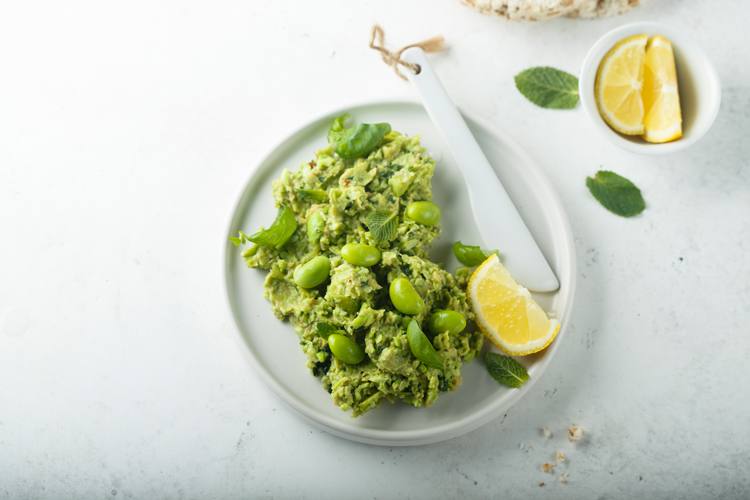 Entertaining? Spend more time with your loved ones and far less time in the
kitchen by serving our delicious, nourishing, seasonal dip recipes. You can easily whip them up in advance and the recipes can be doubled or tripled to suit.
Dips and spreads are the easiest foods for entertaining. Why? They don't take long to prepare; can be made in advance; are good for sharing; and can be a healthy start to a meal – especially when served with vegetable sticks. That being said, there are also some fabulous wholemeal, rye and sourdough crackers available these days that are also good for your gut.
Place these dips in small, pretty pots dotted throughout your tablescape.
 
Edamame Hummus
Tired with the high-salt hummus varieties on the supermarket shelves? Try making this delicious alternative, which features plenty of nutrients, without the copious amounts of blood pressure-raising sodium.
Edamame beans are the star of this hummus. They are the whole, young soybeans that are rich in protein and isoflavones. These are compounds that have a weak estrogenic effect and bind to estrogen receptors in the body. Including them in your menu can help reduce menopausal symptoms such as hot flushes. Always buy organic edamame beans so you know that they are not genetically modified.
Sesame seeds and tahini act as antioxidants and help lower inflammation in the body, as does cumin, which also helps to control blood sugar.
Makes: ¾ cup
Takes: 10 minutes
Ingredients:
400g tin chickpeas, drained
½ cup shelled edamame
1 cup baby spinach
Juice of ½ lemon
2 tbsp olive oil
1 small clove of garlic
2 heaped tbsp tahini
½ tsp cumin
Handful fresh parsley
Pinch sea salt
¼ cup water
To serve: Sesame seeds for topping
Method:
1. Place all of the ingredients (except sesame seeds) in a food processor and blend to a smooth consistency (add extra water if the hummus is too thick).
2. Sprinkle the sesame seeds on top of the dip to serve.
 
Red Pepper And Walnut Dip
Red pepper is not only a flavoursome dip ingredient, it also has some of the highest vitamin C content among most of the fruits and vegetables, as well as being rich in phytonutrients, which play a positive role in modulating the body's immune function.
In addition, walnuts are a super plant source of Omega-3s. Eating walnuts not only nourishes you, but also the beneficial bacteria in your gut, which contribute to the maintenance of your endocrine system.
Makes: ¾ cup
Takes: 30 minutes
Ingredients:
3 red peppers, halved and seeded
2 tbsp olive oil
1/2 cup walnuts
1 tbsp fresh lemon juice
1 clove garlic, finely chopped
1/2 tsp ground sumac
1/4 tsp cayenne
Seasalt
To serve: Pomegranate seeds or molasses
Method:
1. Rub peppers with 1 tbsp of oil and place cut side down on a baking paper-lined baking sheet. Grill until skin starts to blacken (about 8-10 minutes). Transfer to a bowl and cover with plastic wrap immediately. Let sit for about 12 minutes, remove and discard skin.
2. In a food processor, combine the walnuts, lemon juice, garlic, sumac, cayenne, remaining tablespoon of olive oil and salt to taste. Pulse until belitzed.
3. Add peppers to the food processor and pulse, but leave them a bit chunky.
4. To serve: Add a drizzle of olive oil and pomegranate molasses or seeds and extra walnut pieces.
 
White Bean And Garlic Dip
To paraphrase the well known rhyme, beans are good for the heart, not only for what they do contain, but also for what they do not contain. Beans are a great source of fibre, protein and potassium, and no salt, cholesterol or saturated fat. Low-calorie, nutrient-dense cannellini beans are packed with disease-fighting antioxidants and have anti-inflammatory properties, which make them excellent for strengthening your immune system.
Meanwhile, garlic has been used as a medicine throughout ancient and modern history to prevent and treat a wide range of conditions and diseases. Alongside its low calorie count and high nutrient content, it has been shown to decrease stress-related hormones within the body, including cortisol.
Makes: ¾ cup
Takes: 40 minutes
Ingredients:
5 garlic cloves, peeled
1 tbsp olive oil for garlic + 80ml for dip
400g tin cannellini beans, rinsed and drained
80g creme fraiche
Zest and juice of 1/2 lemon
Extra olive oil and chopped parsley to serve
Method:
1. Preheat the oven to 200C (fan 180C). Place the garlic onto a piece of foil, drizzle with olive oil, wrap and roast for 25-30 minutes until the garlic is really soft. Remove from the oven and cool.
2. Place the roasted and cooled garlic with the remaining ingredients (except the 80ml of olive oil) into a food processor and blitz until combined.
3. Gradually pour in the olive oil and process until fully incorporated.
4. To serve: Drizzle over extra olive oil and chopped parsley