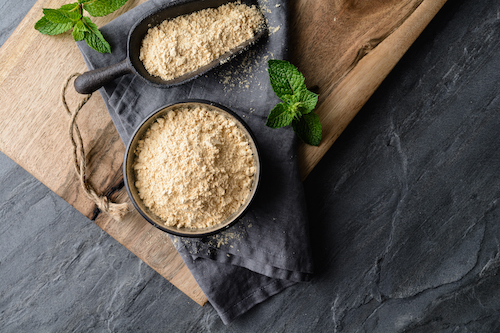 Ashwagandha is increasingly becoming one of the most popular herbal supplements around the world, and it is no surprise given its remarkable health benefits. It is fairly well known in the world of women's health, but it also offers great health benefits for men.
Ashwagandha (latin name: Withania somnifera) has been used for thousands of years in Ayurvedic medicine and it is well-known for its rejuvenating and adaptogenic properties. It is effective in regulating hormones and the immune system, relieving stress, increasing energy levels and improving concentration.
A testosterone booster
Testosterone is mainly a male hormone, although it is also present in women at lower levels and is responsible for the same important health benefits. Levels of testosterone typically reduce with age, but it can also be affected by life circumstances, such as chronic stress, at any age. Common signs of low testosterone include reduced sex drive, fatigue, erectile dysfunction, increased body fat, loss of muscle and bone mass, and mood changes. Ashwagandha has gained a solid reputation for boosting testosterone, which is why we often include it in our Testosterone Replacement Therapy (TRT) treatment plans, along with testosterone boosting foods for optimal results. Studies have shown that supplementation with ashwagandha in men led to a significant increase in testosterone levels, improved sperm quality, and higher antioxidant levels. In a recent study, overweight men aged 40-70, with mild fatigue, saw their levels of testosterone and DHEA (a testosterone precursor produced by the adrenal glands) significantly increase after taking an ashwagandha supplement for 8 weeks.
Reduces cortisol, a testosterone "stealer"
Cortisol, a stress hormone, is physiologically released in response to stress. This becomes problematic when stress is persistent and cortisol levels become chronically elevated. Both cortisol and testosterone are made from the same precursor in the body, therefore, if there is a high demand for cortisol it will have a negative impact on testosterone production. This explains how stress can affect your libido, energy, weight gain, and mood, as these are all health benefits of optimal testosterone levels. The good news is that ashwagandha can also reduce cortisol levels. A study showed that supplementation with the herb in chronically stressed adults significantly reduced their cortisol levels, compared to the control group. If you would like to discuss if cortisol is an issue and test your levels, please contact our naturopath.
Improves muscle mass and strength
Ashwagandha supplementation is also associated with an increase in muscle mass and strength. A clinical study with young men with little experience in resistance training, showed that taking ashwagandha daily for a period of 8 weeks combined with resistance training resulted in a significant increase in muscle mass and strength, when compared to the control group. In addition, subjects experienced less exercise-induced muscle damage, higher levels of testosterone and a greater decrease in body fat.
How do I take ashwagandha?
The health benefits of ashwagandha are mainly due to high concentrations of compounds present in the roots, called withanolides. Extracts are usually standardised to the content of withanolides. Ashwaghanda is generally a safe herb, but as with any herbal supplement, it is recommended to talk to your naturopath or health practitioner to discuss your individual needs. It can be taken as a liquid extract or powder (the powder can be used to make a delicious ashwagandha latte with cinnamon and almond milk). For a therapeutic dosage, the best option is to take standardised root extract capsules (250 – 500 mg daily).
Book A Consultation Today
Arrange your consultation with one of our experts today. To book, please call our Patient Care Team on 020 7191 2378, email secretary@mariongluckclinic.com or use our book an appointment form.
References
Ahmad, M. K. et al. Withania somnifera improves semen quality by regulating reproductive hormone levels and oxidative stress in seminal plasma of infertile males. Fertil. Steril. (2010). doi:10.1016/j.fertnstert.2009.04.046
Auddy, B., Hazra, J., Mitra, A., Abedon, B. & Ghosal, S. A Standardized Withania Somnifera Extract Significantly Reduces Stress-Related Parameters in Chronically Stressed Humans: A Double-Blind, Randomized, Placebo-Controlled Study. J. Am. Nutraceutical Assoc. (2008).
Chandrasekhar, K., Kapoor, J. & Anishetty, S. A prospective, randomized double-blind, placebo-controlled study of safety and efficacy of a high-concentration full-spectrum extract of Ashwagandha root in reducing stress and anxiety in adults. Indian J. Psychol. Med. (2012). doi:10.4103/0253-7176.106022
Gupta, A. et al. Efficacy of Withania somnifera on seminal plasma metabolites of infertile males: A proton NMR study at 800 MHz. J. Ethnopharmacol. (2013). doi:10.1016/j.jep.2013.06.024
Lopresti, A. L., Drummond, P. D. & Smith, S. J. A Randomized, Double-Blind, Placebo-Controlled, Crossover Study Examining the Hormonal and Vitality Effects of Ashwagandha (Withania somnifera) in Aging, Overweight Males. Am. J. Mens. Health (2019). doi:10.1177/1557988319835985
Mahdi, A. A. et al. Withania somnifera improves semen quality in stress-related male fertility. Evidence-based Complement. Altern. Med. (2011). doi:10.1093/ecam/nep138
Misra, L. et al. Withanolides from Withania somnifera roots. Phytochemistry (2008). doi:10.1016/j.phytochem.2007.10.024
Wankhede, S., Langade, D., Joshi, K., Sinha, S. R. & Bhattacharyya, S. Examining the effect of Withania somnifera supplementation on muscle strength and recovery: A randomized controlled trial. J. Int. Soc. Sports Nutr. (2015). doi:10.1186/s12970-015-0104-9