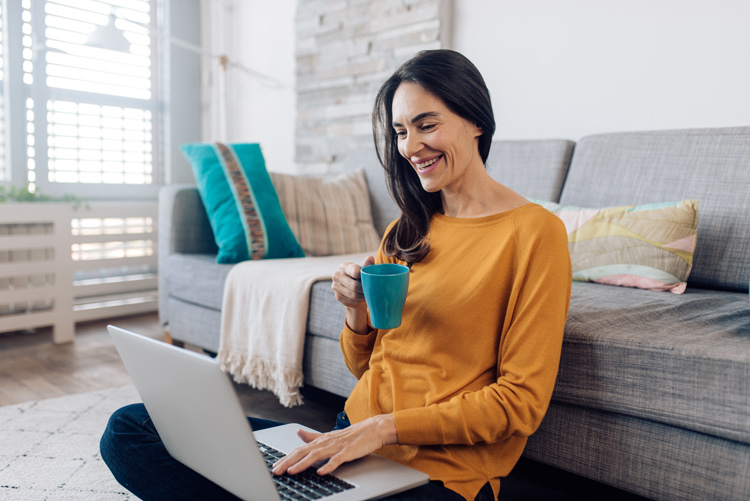 Going through perimenopause and reaching menopause can be a difficult time. If you are experiencing menopause symptoms or are concerned about experiencing symptoms, you may be wondering what help is available and if you need to see a specialist menopause doctor.
The British Menopause Society National Survey has suggested that 75% of women will experience menopause symptoms. That's a huge number of women experiencing symptoms that impact their quality of life. In fact, 50% of women say it has affected their home life, 50% say it has it has affected their sex life, and 36% say it affects their social life. The most shocking figures of all? 42% of women said symptoms were worse than expected, and despite this, 50% of women with menopause symptoms do not contact a healthcare professional.
Too often women ignore symptoms or fail to seek help because they simply don't realise that anything is wrong. Others struggle on a daily basis but don't attribute their symptoms to menopause and try to power on, but ultimately, it affects their quality of life. Others don't realise that help is available – they just need to visit the right doctor. There's no need to face this struggle alone; by visiting a menopause specialist, you can get the support that you need to increase your quality of life throughout the menopause and beyond.
The Marion Gluck Clinic was founded by Marion Gluck to allow women going through perimenopause and menopause to take control of their hormonal wellbeing.  We believe that by learning about your body and your hormones, this enables you to improve your quality of life, as well as confidence in all aspects of your health.
We see many patients who experience a disconnect between menopause and its symptoms, whether that's through a lack of education or being misdiagnosed. Menopause can be the cause or the catalyst for poor mental health, for example. Low mood, brain fog, anxiety and depression are all symptoms of hormonal imbalance caused by the menopause, but there are many women who have been prescribed antidepressants as a result, when they may have been far better suited to bioidentical hormone replacement therapy to address the root cause.
Should You Go To The Doctor For Menopause?
If you can relate to any of the below, you should seek advice from a medical professional:
Symptoms of menopause before the age of 45
Hormonal symptoms that are affecting your life
You would like to be proactive about menopause before the symptoms begin to interfere with daily life
Many women find treatment provided by their GP sufficient. However, there are a number of women who are reporting a lack of support, they have tried traditional HRT but get a lot of side effects, or the treatments prescribed just don't help with symptoms.
Talking to your doctor about the menopause
Wondering what to address during your appointment with your doctor? Here are our tips:
Make a list of symptoms that you have experienced in the last two months and share these with your doctor
Don't leave out 'embarrassing' or 'awkward' details, such as symptoms relating to your vaginal or sexual health
Provide information on any other medications that you're taking, as well as lifestyle habits such as smoking and drinking
If prescribed any medication, ask about the side effects
Ask if there are alternative therapies that may be available
If examinations are ordered, ask about any associated side effects, how to prepare for them, and how long results will take
Ask for advice on what you can do yourself to help relieve your symptoms (such as taking particular supplements or reducing stress)
Can Doctors Do Anything About Menopause?
Wondering what kind of doctor you should see for menopause issues? A GP is usually the first port of call when it comes to menopause, as with many other hormonal conditions. However, we are finding more and more that women just aren't getting the help they need. Unfortunately, this is a side effect of a wider healthcare problem; GPs don't receive the in-depth training required to accurately diagnose and effectively treat these common issues. This results in patients being prescribed standardised treatments that may not address individual symptoms.
Our experience with thousands of patients tells us that treatment for perimenopause and menopause should be more nuanced than what is currently offered. What do we mean by this? One woman's needs may not be the same as another's, so when it comes to addressing a hormonal condition, treatment should be tailored to the individual.
Marion Gluck Clinic doctor Dr Jennifer Singh says, "the traditional route of treatment for the menopause may not address all of your symptoms. By visiting an expert in hormonal health, you can be sure to receive comprehensive treatment that results in balanced hormones and a better quality of life".
We utilise the power of bespoke bioidentical hormone replacement therapy. This allows us to provide bespoke dosages and a larger range of delivery methods (gels, patches, oral tablets, and more) to suit each patient.
Not only that, but we combine the use of bioidentical hormones with nutritional support and other lifestyle advice to help you not only feel like your old self again, but better. For many patients, this level of tailored care is life changing.
Speak To A Menopause Doctor
Looking for a menopause doctor that has extensive experience in the treatment of menopause? Look no further than our all-female team of hormone specialists who have been trained in the Marion Gluck Method, which is based upon a comprehensive understanding of a patient's individual needs. All of our team members possess many years' expertise in women's health.
As the home of hormone balancing in the UK, our reputation precedes us – and for very good reason. We take hormone balancing to the next level and we carefully review all aspects of your life and medical history, complete with gold-standard blood tests. We then put together a personalised treatment plan that encompasses not only bioidentical hormones, but all areas of your lifestyle that could have an impact on your hormone balance.
We remain as passionate as ever about educting women about their hormones so they can feel empowered about their health, particularly during perimenopause and menopause. We give you the knowledge you need to take control of and make decisions about your health.
How do I know when I should see a hormone specialist?You can seek the help of a hormone specialist if you are experiencing symptoms of hormonal imbalance under the age of 45, or if you are experiencing hormone-related symptoms that interfere with your daily life. You can also see a specialist for preventative treatment if you are nearing the typical age of perimenopause or menopause.
How do I know if my symptoms are related to the menopause?
Menopausal symptoms can often cross over with those of other conditions – this is why it is important not to self-diagnose, even if you are close to menopausal age. If you have any symptoms that are abnormal for you, book an appointment with a doctor, who should be able to help you narrow down the possible conditions.
Do gynaecologists deal with menopause?
Gynaecologists can address some symptoms of the menopause, such as vaginal dryness, incontinence and low libido. However, not all gynaecologists are menopause specialists, and they may not be able to advise on hormone balancing from a holistic perspective.
My symptoms aren't severe. Do I need BHRT?
All women experience the menopause differently, and BHRT isn't always necessary. There are many alternative therapies available, and our specialists can advise you on these as appropriate.
Book Your Consultation Today
Concerned about the menopause? Book your consultation with one of our expert doctors today by contacting our Patient Care Team.

Book an appointment