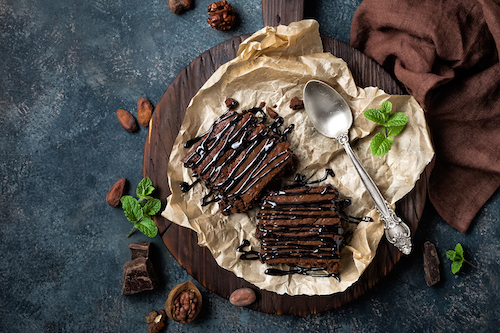 Spring is on the way bringing us blossoming flowers, longer days and more sunshine to warm up our lives. It is also time to celebrate Easter and indulge in delicious treats which are invariably covered in chocolate. Yet, if you would like all the fun but less sugar and great health benefits you are in for the real thing, cacao. Or shall we say cocoa?
Cacao or cocoa?
What actually are they? Are they the same thing? And which one is better and why? If you too are confused about cacao vs cocoa do not worry, you are not alone. That's why today we will have a closer look at them and share all their ins and outs.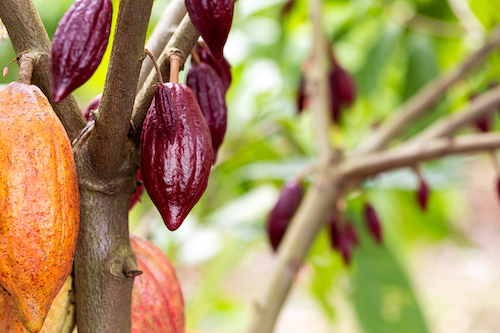 The source of all chocolate products is a tree called Theobroma cacao (Theobroma is a Greek word meaning "Food of the Gods"), native to South America, which produces seed pods called cacao beans. This is chocolate at its purest stage and it's the next step, the processing of the beans, that will determine the quality of the final product. When it comes to processing, cacao is made by cold-pressing un-roasted cocoa beans, therefore preserving all its health benefits, while in the case of cocoa, the beans are roasted at high temperatures affecting the molecular structure and significantly lowering its nutritional value. Hence, both cacao and cocoa come from the same place but they do end up in different end-products, with different quality.
The health benefits of cacao
There is a huge hype around cacao these days and there is a good reason behind it. This delicious substance is packed with health benefits, mainly due to its high content in flavanols (a subclass of flavonoids), compounds with potent antioxidant properties. Cacao is also a great source of minerals such as magnesium, iron, and chromium. In fact, cacao is one of the highest sources of magnesium, a key mineral needed in abundance for energy, muscles, nerves, and hormone balance, with a high reputation for supporting relaxation and good sleep.
These are some of cacao's main health benefits, mainly due to its high flavanol and magnesium content:
Cacao can improve symptoms of anxiety and depression, including in people with chronic fatigue syndrome. In addition to flavanols and magnesium, there is a neuroactive substance present in small amounts in cacao, phenylethylamine (PEA for short), which is thought to boost levels of the feel-good hormones dopamine and serotonin.
Boosts cognitive function
Cacao increases blood flow to the brain and enhances connections between neurons. Clinical studies have shown that flavanols improve cognitive function in healthy young adults as well as in older people with mild cognitive impairment.
Cacao can reduce blood pressure, reduce inflammatory markers that contribute to atherosclerotic plaques (the plaques that can obstruct arteries), and increase "good" HDL cholesterol.
Studies have shown that cacao's powerful antioxidant properties can protect the skin from UV damage, increase blood flow to the skin and reduce wrinkle formation.
How to eat cacao
Always look for products that are 100% raw cacao and certified organic. You can enjoy cacao as a bar, cacao mass/paste, cacao nibs (raw cacao beans broken into small pieces), or cacao powder. If opting for a cacao bar, look for at least 70% raw cocoa and low sugar content. The best natural sweetener options are coconut sugar, raw honey, cane sugar, and monk fruit. Cacao nibs (the perfect replacement for chocolate chips) and cacao powder (the perfect replacement for chocolate powder) are super versatile and can easily be blend into your morning porridge, smoothies and desserts (ideally raw desserts so the nutritional properties of cacao do not get lost by high temperatures).
How much?
One to six teaspoons or raw cacao powder daily. Remember that cacao is better consumed regularly in moderate amounts.
The higher the percentage of cacao, the healthier and more bitter it becomes. You can balance out the bitter taste with natural sweeteners such as fruit, raw honey or our beloved cinnamon (so you get the extra benefits of blood sugar balancing).
How to use it
There are super delicious ways to add cacao into your life! Why not try my "Energy boosting smoothie" or a super easy to make "Cacao avocado mousse"?
 Energy Boosting Smoothie
Serves 1
1 large cup of unsweetened almond milk
½  a ripe avocado
½ an unripe banana
2-3 tsp of 100% raw cacao powder
1 tbsp of ground flax seeds
1 tsp of organic Maca powder (optional – supports energy levels and hormonal balance)
Put all the ingredients in a blender in the order listed above. Blend, starting up at low speed and working up to high speed, until reaching a smooth consistency. Drink immediately.
Cacao Avocado Mousse
Makes 4 small cups
1 medium frozen ripe banana, peeled
1 medium cold ripe avocado
3 tbsp of cacao powder
1 tbsp raw honey (optional, you may find the banana provides enough sweetness)
1 tsp lemon juice
2 tbsp cold water
A pinch of sea salt
Optional: 1 tsp of amaretto
Options to decorate: cacao nibs with fresh raspberries or extra virgin olive oil with sea salt flakes
Blend all the mousse ingredients in a blender until reaching a smooth texture. You can add a bit more water if you prefer a looser texture. Divide into small cups and decorate as above.
Tip: if you would rather not taste the banana much, use a small banana instead and a slightly larger avocado.
The bottom line
Cacao is the purest form of "chocolate" offering the maximum nutritional content you can get. Although cacao is superior to cocoa, the latter still offers similar health benefits just at reduced levels. Nevertheless, both represent better choices when compared to a regular chocolate bar containing highly processed chocolate stripped of its nutritional value, usually high in sugar, hydrogenated fats, and other additives.
Also Read:
Cacao Easter Cake
A warm approach to detox
6 nutrients that boost progesterone
References
Abdul Karim, Azila, et al. "Efficacy of Cocoa Pod Extract as Antiwrinkle Gel on Human Skin Surface." Journal of Cosmetic Dermatology, 2016.
Desideri, Giovambattista, et al. "Benefits in Cognitive Function, Blood Pressure, and Insulin
Resistance through Cocoa Flavanol Consumption in Elderly Subjects with Mild Cognitive
Impairment: The Cocoa, Cognition, and Aging (CoCoA) Study." Hypertension, 2012.
Grassi, Davide, et al. "Brain Protection and Cognitive Function: Cocoa Flavonoids as Nutraceuticals."
Current Pharmaceutical Design, 2015.
Heinrich, Ulrike, et al. "Long-Term Ingestion of High Flavanol Cocoa Provides Photoprotection against UV-Induced Erythema and Improves Skin Condition in Women." The Journal of Nutrition, 2006.
Jia, Lei, et al. "Short-Term Effect of Cocoa Product Consumption on Lipid Profile: A Meta-Analysis of
Randomized Controlled Trials." American Journal of Clinical Nutrition, 2010.
Kim, Jong Eun, et al. "Oral Supplementation with Cocoa Extract Reduces UVB-Induced Wrinkles in
Hairless Mouse Skin." Journal of Investigative Dermatology, 2016.
Mastroiacovo, Daniela, et al. "Cocoa Flavanol Consumption Improves Cognitive Function, Blood
Pressure Control, and Metabolic Profile in Elderly Subjects: The Cocoa, Cognition, and Aging
(CoCoA) Study-A Randomized Controlled Trial." American Journal of Clinical Nutrition, 2015.
Monagas, Maria, et al. "Effect of Cocoa Powder on the Modulation of Inflammatory Biomarkers in
Patients at High Risk of Cardiovascular Disease." American Journal of Clinical Nutrition, 2009.
Neukam, Karin, et al. "Consumption of Flavanol-Rich Cocoa Acutely Increases Microcirculation in
Human Skin." European Journal of Nutrition, 2007.
Pase, Matthew P., et al. "Cocoa Polyphenols Enhance Positive Mood States but Not Cognitive
Performance: A Randomized, Placebo-Controlled Trial." Journal of Psychopharmacology, 2013.