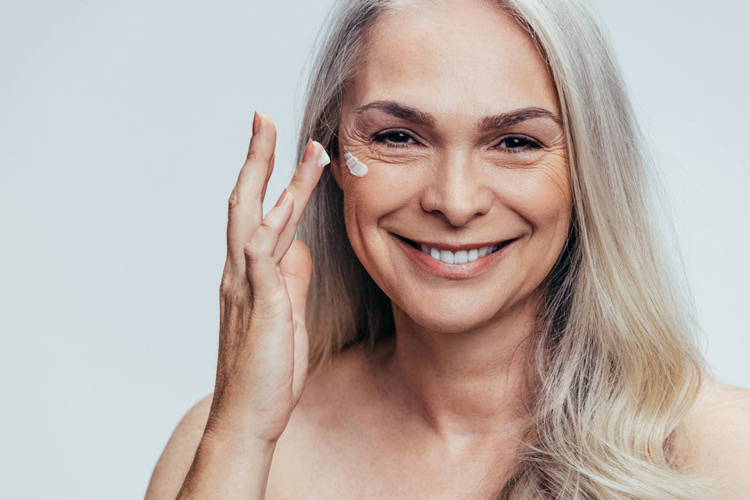 Skincare should be tailored to the individual. And yet, for many years, consumers have relied on skincare products that are manufactured with a generalised list and dosage of ingredients that may not be effective for their unique skin types. Removing the imprecision and inefficacy of mass-produced skincare products, our prescription face cream instead hones in on your skin's particular needs.
Our hormone-ceutical face creams are designed around a formulation that is unique to you. This is on top of a combination of well-researched skincare heavyweights, to complement your customised cream formulation and revitalise your skin.
Our founder, Dr Marion Gluck, who has been prescribing personalised hormone creams for 20 years says, "Estrogen has a profound effect on the skin. As we age, the estrogen levels in the body deplete and it's normal to start noticing sagging skin, dryness and wrinkles. This can really impact on a woman's confidence. Personalised hormone face creams are an effective way to address these signs of ageing skin. All the ingredients that your skin requires are compiled into one easily accessible face cream that can be applied daily to address your specific skin concerns."
Dr Valeria Acampora, our specialist in anti-ageing medicine, adds: "These days, social media feeds and magazines are full of skincare advice, from articles citing how drinking plenty of water and eating healthily can help improve your skin, to adverts for over the counter anti-ageing products. Unfortunately, this alone is not effective enough. In order to see any considerable improvement in the appearance of your skin, it is necessary to follow an at-home medical-grade skincare regime which is tailored to your precise needs and incorporates scientifically-proven active ingredients.
"One product and skincare regimen is not suitable for all. Our skin care needs depend on many factors, including age, skin type and colour, lifestyle, alcohol intake, whether you smoke, like to tan, and whether you're male or female. It's important to speak to a doctor who has been trained in the skin and can analyse your skin and identify your specific needs.
"Even if you don't use a prescription face cream as part of your skin care routine, it's so important to not only wash your face every morning but to gently exfoliate to stimulate renewal of skin cells and control sebum. Oil is the main cause of inflammation and chronic inflammation which makes the skin age. And in the evening, it's important to wash away the pollutants from the day. If you have any areas of concern, problems, or if skin is very aged, then hormone prescription face cream combined with a customised regime can be very effective."
How Bioidentical Hormones Supercharge Your Skincare Routine
We all strive for healthy looking skin and expect our skincare products to help us attain those results. With personalised prescription skincare achieved through the use of bioidentical hormones, you can expect a multitude of benefits that may not be obtainable with regular skincare products. These include:
Increased moisture and reduction in wrinkle depth: Nourish your skin with a potent moisture boost and fill out wrinkles and fine lines for a visibly youthful complexion.
Improvement in the skin's firmness, texture and hydration: See an increase in elasticity and firmness with intense hydration, coupled with a smoother and softer texture.
Anti-inflammatory activity: Balance your tone by reducing redness, blemishes and flare-ups.
Improved wound healing: Reduce recovery time for spots, blemishes and other dermal damage by helping your skin to heal itself.
Improvement in dermal thickness: Skin can become thinner with age. Use your new skincare routine to improve your skin thickness and reduce signs of ageing.
The ability to tailor the entirety of your product: It's not just the bioidentical hormone formulation which comprises your unique skincare product. Your doctor can also prescribe additional proven active ingredients such as vitamin E, vitamin C, co-enzyme Q10 and hyaluronic acid to tailor your cream even further to your precise needs.
"My patients notice significant improvements in their skin using a personalised regime and products, but it's important to remember that it doesn't happen overnight." explains Dr Acampora. "It can take 6 months of following a regime consistently to see results. In some cases I see patients that have very damaged skin, perhaps from acne or hyperpigmentation. Sometimes it is recommended that these patients also have regenerative procedures. Chemical peels, for example, are very effective. Historically known for treating acne scarring, peels cause acute inflammation which triggers the body to renew the skin cells, thereby improving the quality and health of the skin, as well as keeping it looking young."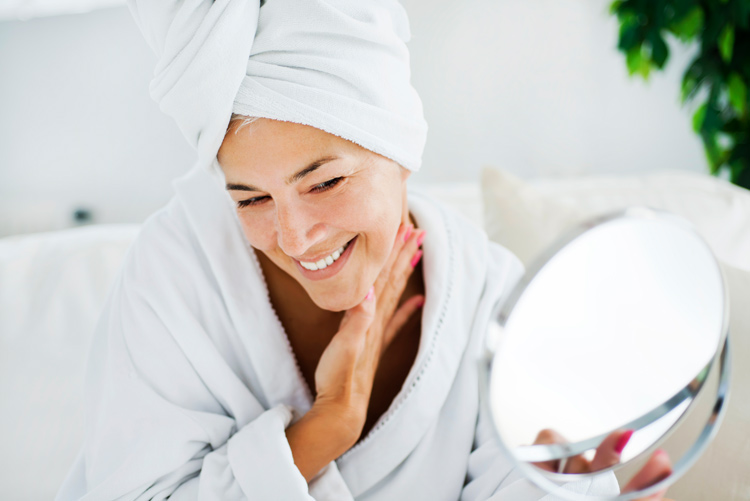 Personalised Hormone Face Cream: Your Questions Answered
We've answered some of your most frequently asked questions below. If you have any other queries, please do not hesitate to contact our friendly Patient Care Team by emailing secretary@mariongluckclinic.com
Book Your Personalised Hormone Face Cream Consultation
If you would like to discover your perfect skincare formulation, book a video consultation with the Marion Gluck Clinic today.

Book an appointment

secretary@mariongluckclinic.com