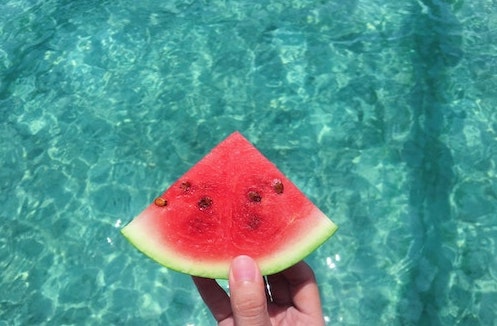 Loss of desire is common in the years before and after menopause. Desire problems peak around ages 35 to 64. What is the root cause? It's a time of life with a lot going on! Changes in hormones can cause spontaneous desire or craving sex out of the blue or total loss of the libido.
This month we have a delicious and versatile recipe for summer fruit salad. This salad is great to use with dark chocolate for aphrodisiac and mood-lifting effects.
Peaches – provide the body with the potassium needed for cardiovascular health. They also contain niacin, which is essential for producing energy. In other words, it gets you moving, whether it is at the gym or in the bedroom.
Cherries – Another class of nutrients important for sexual health are the bioflavonoids. Cherries contain a type of bioflavonoids called anthocyanins, powerful antioxidants that reduce inflammation and help maintain a healthy sex drive.
Watermelon – the phytonutrients known as lycopene, beta-carotene and citrulline found in watermelon help relax blood vessels, If you would like to improve your libido naturally without any negative side effects, watermelon is a great option.
Dark chocolate – research has shown that chocolate consumption leads to the release of serotonin because of its tryptophan content, leading to some aphrodisiac and mood-lifting effects. Just make sure you choose a low-sugar, high-quality dark chocolate.
Recipe- Summer fruit salad
Prep-time: 10 mins
Serves 4
Ingredients
4 ripe peaches
250 g cherries
500 g watermelon wedge
1 unwaxed lime
dark chocolate bits
optional: 2 tablespoons elderflower cordial (a nice seasonal touch to the salad, but leave out if worried about sugar consumption).
Cut the peaches in halves and remove stones, then slice them into 3-4 wedges. Halve the cherries and remove stones (it is more enjoyable to eat the salad when one does not have to worry about the little stones). Remove the rind with the white edge from the watermelon and cut into 2 cm bite-size bits.
Combine all the fruit in a bowl and stir through the elderflower cordial if using, grate the lime zest over the salad and then add the juice. Finally scatter with the dark chocolate bits. Enjoy!