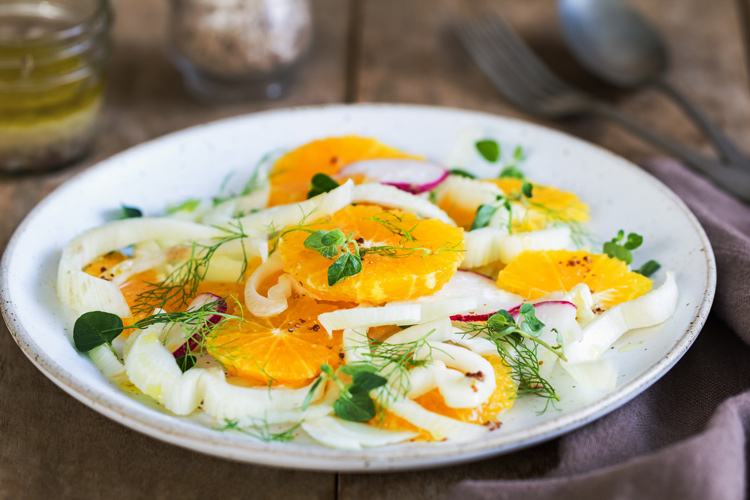 How do you brighten up any dinner? With a rainbow plate of nutritious food, of course! This table-brightening fennel and orange salad not only looks a treat, but tastes delicious too – and it's full of benefits.
Orange is a great source of vitamin C, which promotes healthy estrogen production and aids the body's process of secreting other hormones. It's also famous for boosting the immune system, keeping those winter colds at bay. Meanwhile, studies have shown that fennel may combat telltale symptoms of the menopause such as hot flushes, vaginal dryness and poor sleep, without side effects.
Makes: 4 servings as a side
Takes: 10 minutes to prepare
Ingredients:
1 large fennel bulb (shredded), fronds saved
1 small red onion, finely sliced
1 orange (blood orange, if possible, for its colour) ½ half juiced and ½ segmented and chopped
Handful of pistachios
Coriander leaves to taste
Dressing:
2 tbsp the best olive oil you can buy or use refrigerated flaxseed oil for maximum health benefits
2 tbsp balsamic vinegar (try to get a good quality one)
2 tbsp orange juice (from ½ orange)
Sea salt to taste
Method:
1. Combine dressing ingredients in a jar and shake well.
2. Shred the fennel in a food processor with a slicing attachment, with a mandolin or simply by using a knife
3. Toss the salad ingredients together, garnish with pistachios and dress lightly. Decorate with saved fennel fronds.