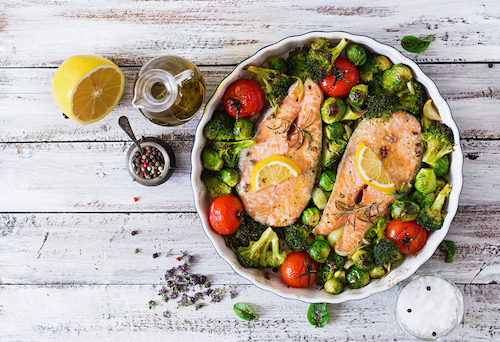 Omega-3 fatty acids are vital for healthy neurological function. Oily fish, such as salmon from cold ocean waters are rich source of omega-3 fatty acids and pre-formed EPA and DHA, the most neurologically active forms of omega-3 fatty acids in humans. Consumption of omega-3 fatty acids is associated with a reduced incidence of depression. Salmon is also rich in tryptophan, an amino acid which is a precursor of sleep-inducing substances, serotonin and melatonin.
Recipe- Baked Salmon with Vegetables
Serves 4
Prep 15 mins
Cook 25 mins
Ingredients
2 tbsp olive oil
1 leek (white part), sliced
1 baby fennel, sliced
250g courgette, cut into thin strips or ribbons (using vegetable peeler)
2 garlic cloves, thinly sliced
1 lemon, sliced
4 salmon fillets (wild-caught, if possible)
2 tsp dill, chopped, with extra sprigs for serving
130g punnet baby truss tomatoes
100g snow peas, trimmed
1 bunch broccolini, trimmed and halved
salt and pepper for seasoning
sesame seeds for serving
Method
Preheat the oven to 200℃ (180℃ for fan forced oven).
Pour the olive oil (keep about 1 tsp for later) into a roasting pan, place the pan in the oven, and heat for 5 minutes. Add the leek, fennel, courgette and garlic to the hot pan and toss well to coat with oil. Season with salt and pepper and bake for 5 minutes.
Season the salmon to taste, sprinkle with dill and top with the lemon slices. Arrange the salmon on top of the vegetables, drizzle with the remaining oil and bake for 10 minutes.
Add the tomatoes to the pan and bake for a further 5 minutes until fish is cooked to your liking and tomatoes are just soft.
Meanwhile, place snow peas and broccolini into a bowl. Pour over boiling water and set aside for 5 minutes until tender and then drain.
Serve the fish with the snow peas, broccolini and the rest of the vegetables. Sprinkle with sesame seeds and some sprigs of dill.