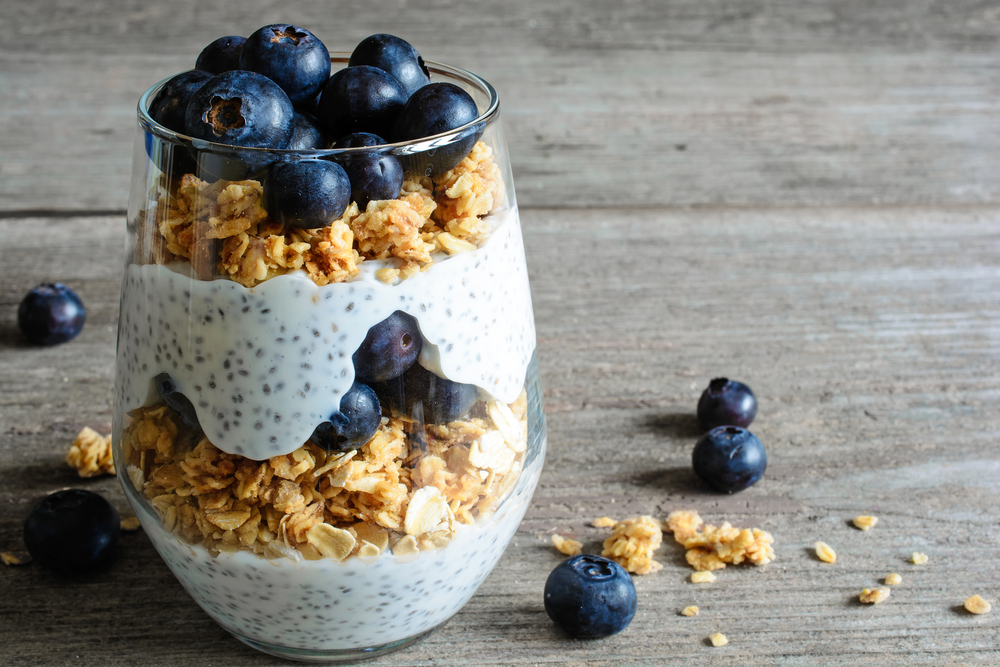 A healthy breakfast usually sets a theme for the day and is especially important during celebrations and holidays as there are an abundance of delicious food and many tempting snacks around. Our Swiss-style muesli is a nutritional, satisfying and hormone-balancing choice and should keep you full until late lunch.
Nuts and seeds are good sources of protein, fibres, vitamins, minerals and healthy fats. They are low in carbs and do not raise blood sugar levels too much, which is important for hormonal balance as it is dictated by blood sugar.
Chia seeds are rich in vitamins, antioxidants and are full of fibre. Dietary fibre is very important for hormone balance. Flaxseeds have all the same benefits, and are also rich in plant-based estrogen like lignans, which provide hormone balance and menstrual support. Chia and flaxseeds are both good sources of omega-3 fats. Brazil nuts are naturally high in selenium, a mineral needed to maintain healthy thyroid function. Orange juice adds lovely flavour and, of course, Vitamin C to the breakfast.
Serves: 4
Time: Overnight
Ingredients:
2 cups rolled oats (gluten free if possible)
Finely grated orange peel from one organic orange
1 cup fresh orange juice
½ cup slivered almonds
2 tablespoons chia seeds
2 tablespoons flaxseed (freshly ground)
2 tablespoons pepitas
2 tablespoons sunflower seeds
1 tablespoon sesame seeds
1 tablespoon hemp seeds
1 tablespoon dried cranberries, blueberries or sultanas (for sweetness)
1 teaspoon cinnamon
1 large apple, grated (pear works as well)
1 cup organic greek-style yogurt (or any good dairy-free yogurt)
Blueberries, pomegranate seeds and brazil nuts for serving
Method:
Combine all dry ingredients, stir in orange juice and finely grated peel, cover and keep in fridge overnight.
Before serving add grated apple (or pear) and stir through yogurt
Top with blueberries, pomegranate seeds and chopped brazil nuts or your own favourite topping.
If it happens to be a very chilly morning you can gently heat the muesli before adding yogurt (may need extra orange juice or water)
TOP TIP
The dry mixture keeps very well in an airtight container for many months stored in a darker dry place.