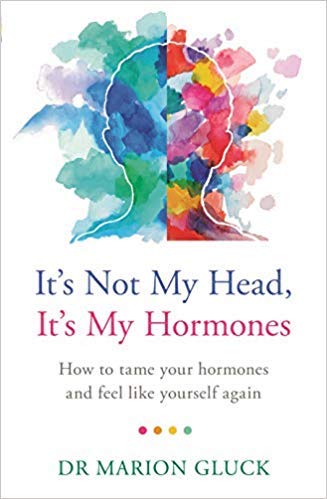 You're not going crazy!
This is such an important message for women from all ages and walks of life.
From the teenager who suddenly finds herself in a woman's body, to the high achieving career diplomat who gives up her career, one step before representing her country as an ambassador. All have in common the fear of going mad, the fear of losing their confidence, the fear of losing control or losing their mind and the fear of 'not feeling like myself'.
Last month marked the anniversary of my 40 years as a doctor but also the launch of my new book, It's Not My Head it's my Hormones.  I wrote the book to send a message to all girls and women and to their families, friends and colleagues around them that they are not going crazy. There is no need to feel such helplessness and despair.   this modern age we are expected to be and do more than ever before, and finding our own balance is the only way we can really survive and thrive.
With one in four people suffering from mental illness, the link between our hormones and mental health needs to be highlighted as the two are inextricably linked. Hormones when well-balanced control every function in the body; from sleep, metabolism, fertility, energy, weight management, moods and intellect, just to name a few. However, hormones in disarray cause havoc in our life, from symptoms of premenstrual tension such as mood swings, anxiety, insomnia, weight gain and fatigue to the extremes of post-natal depression, severe anxiety and panic disorder to paranoia and psychosis.
My book intends to give hope and understanding and choices for all women whether they have 'been hormonal' all their lives, suffer from the turmoil of hormone fluctuations, or simply find they are experiencing changes that take them away from the person they want to be.
This year, there have some significant steps forward to boost awareness of hormonal health, with celebrities sharing their stories and politicians getting behind the cause.  Whilst it is a positive thing to see people talk about hormones in the public arena, there is still substantial work to be done to improve the understanding the role of hormones and their influence over physical and mental health.
So, don't worry, you're not going crazy! Take some time out to understand your hormones. Make them your allies and learn how you to balance them and optimise your mental health and physical wellbeing.
Thank you for being part such a rewarding part of my 40 years as a doctor, I still hope to do so much more.
Order your copy today