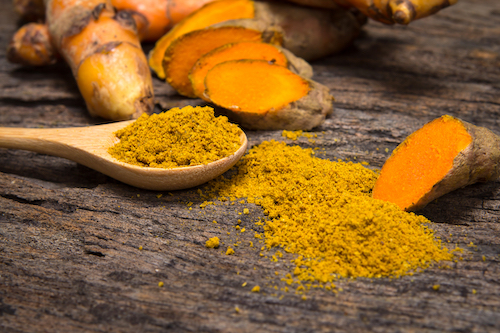 Since we are covering detox with a warm twist, there is no herb that fits the bill better than the golden Indian spice turmeric (or Curcuma longa) with its both warming and liver supporting properties. This wonderful herb, known in traditional Eastern medicine as a warming herb or spice, is an endless source of goodness, known as a potent anti-inflammatory, anti-oxidant and immune modulator. Due to its therapeutic properties, turmeric not only supports detoxification steps in the liver but also help with several health conditions including gastrointestinal disorders (such as Inflammatory Bowel Disease – IBD, and Irritable Bowel Syndrome – IBS), osteoarthritis, diabetes and even cancer. The main active constituent of turmeric and the one responsible for its vibrant yellow colour is called curcumin, and has endless clinical trial data showing its therapeutic applications.
Covering the health benefits of turmeric could be a topic for infinite pages, but I would like to focus on how turmeric can better support your digestion and liver, giving your body a better chance for detoxing. If you would also like to know more about how looking after your liver and digestive system can help you detox, please read my article "A warm approach to detox".
 Detox and balance your hormones with turmeric
Turmeric's antioxidant properties give an extra protective boost to your liver. Turmeric can protect the liver from oxidative stress by acting as a free radical scavenger. Free radical molecules – created by poor diet, pollution and tobacco smoke amongst others – cause oxidation and DNA damage that all affect the liver and the body.
Turmeric also helps your body to detoxify by helping your liver to modify, inactivate and eliminate toxins and excess substances produced by the body (including hormones). For example, excess estrogen can lead to hormone imbalance and symptoms like PMS, heavy and painful periods and weight gain. Since the liver has an important role in metabolising estrogen for elimination, turmeric can have an impact on hormone regulation via this mechanism. In addition, turmeric helps women managing some symptoms of menopause such as hot flushes and joint pain given its anti-inflammatory properties.
Boost your "digestive fire" with turmeric
Turmeric is known as a "warming" spice, promoting blood flow and stimulating digestion and therefore better nutrient absorption. Studies have shown that turmeric reduced symptoms of bloating and gas in people suffering from indigestion. Research also shows that turmeric increases bile flow. Bile is a fluid that is naturally produced by the liver and stored in the gallbladder.
Below are the reasons why bile production is so important:
Helps you absorb good fats: Appropriate bile production is the best way to assure you are absorbing good fats which are crucial for absorption of the fat-soluble vitamins A, D, K and E.
Key for hormone production: Absorption of good fats is also key for hormone production and for key organs such as the liver, brain, heart and skin.
Regulates bowel movements: Bile also emulsifies fat-soluble toxins helping the body to get rid of them and, particularly when combined with a fibre-rich diet, regulates bowel movements.
How can I take turmeric?
Turmeric is a rhizome and can be simply taken as food incorporated into several dishes (curries, stews, home-made falafels and roasted vegetables) and drinks (lattes – read on for turmeric latte recipe, smoothies, juices and teas). You can opt to grate or chop the fresh rhizome (available in several supermarkets and health shops) or buy the powdered dry root. You can also take turmeric extract as a supplement, which is recommended in order to achieve therapeutic dosages and optimal absorption. Supplements come in the form of capsules or herbal tinctures.
How much should I take?
The University of Maryland Medical Center states that any dose between 1.5 and 3 grams is appropriate for an average-sized adult. Keep in mind that curcumin has a low bioavailability, which means that it is poorly absorbed by the body. In order to boost absorption, mix turmeric with black pepper in a ratio of 10:1. Piperine, a constituent of black pepper, has been shown to increase curcumin absorption by 20 times. (Tip: add 1 teaspoon of black pepper to every 10 teaspoons of turmeric, mix well and store in an airtight jar away from light so it is ready to use).
Recipe: Spicy warming latte
Ingredients:
Half a teaspoon of turmeric powder (mixed 10:1 with black pepper)
Half a teaspoon of grounded cinnamon
A couple of cardamom pods for extra flavour (optional)
1 cup of warm unsweetened almond milk
Mix together and enjoy!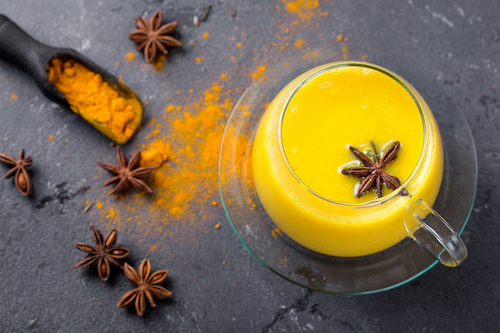 References
Bundy, R., Walker, A., Middleton, R., & Booth, J. (2004). Turmeric extract may improve irritable bowel syndrome symptomology in other…: Discovery Service for Endeavour College of Natural Health Library. Journal of Alternative & Complementary Medicine.
Dulbecco, P., & Savarino, V. (2013). Therapeutic potential of curcumin in digestive diseases. World Journal of Gastroenterology.
Farzaei, M. H., Zobeiri, M., Parvizi, F., El-Senduny, F. F., Marmouzi, I., Coy-Barrera, E., … Abdollahi, M. (2018). Curcumin in liver diseases: A systematic review of the cellular mechanisms of oxidative stress and clinical perspective. Nutrients.
García-Niño, W. R., & Pedraza-Chaverrí, J. (2014). Protective effect of curcumin against heavy metals-induced liver damage. Food and Chemical Toxicology. https://doi.org/10.1016/j.fct.2014.04.016
Gupta, S. C., Patchva, S., & Aggarwal, B. B. (2013). Therapeutic roles of curcumin: lessons learned from clinical trials. The AAPS Journal, 15(1), 195–218.
Labban, L. (2014). Medicinal and pharmacological properties of Turmeric (Curcuma longa): A review. Int J Pharm Biomed Sci.
Mazieiro, R., Frizon, R. R., Barbalho, S. M., & Goulart, R. de A. (2018). Is Curcumin a Possibility to Treat Inflammatory Bowel Diseases? Journal of Medicinal Food.
Rivera-Espinoza, Y., & Muriel, P. (2009). Pharmacological actions of curcumin in liver diseases or damage. Liver International.
Taylor, R. A., & Leonard, M. C. (2011). Curcumin for inflammatory bowel disease: A review of human studies. Alternative Medicine Review.
University of Maryland Medical Center. (2011). Turmeric | University of Maryland Medical Center. Complementary and Alternative Medicine Guide.
Wang, Y., Wang, L., Zhu, X., Wang, D., & Li, X. (2016). Choleretic Activity of Turmeric and its Active Ingredients. Journal of Food Science.
Zhang, D.-W., Fu, M., Gao, S.-H., & Liu, J.-L. (2013). Curcumin and Diabetes: A Systematic Review. Evidence-Based Complementary and Alternative Medicine : ECAM, 2013, 636053.