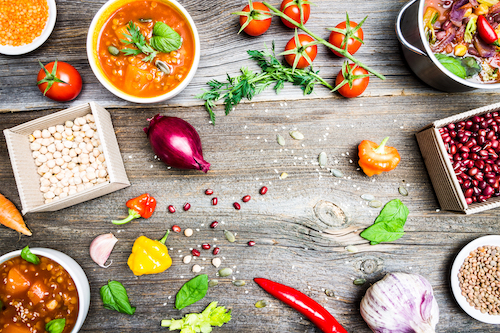 Why not spend an hour or so on the weekend by making a big pot of vegetable-rich soup that is easy to freeze for the days we are too busy to cook?
Adzuki beans are fibrous and protein-packed legumes. They have warming qualities, and in a macrobiotic diet they are considered to be the most 'yang' of all beans. Adzuki beans are a good source of magnesium, potassium, iron, zinc, copper, manganese and B vitamins, and they are relatively easy to digest.
Preparation: soaking beans overnight, + 15 minutes to chop vegetables.
Cook: 30 minutes for beans, + 45 minutes for soup
Servings: 6
1 brown onion, chopped
3 carrots, chopped
2 stalks of celery, chopped
3-5 cloves of garlic, finely diced
1 sweet potato, chopped into bite-size pieces
1 red pepper, chopped
2 cups of firmly packed and thinly sliced kale or chard (or mixture of both)
1 cup of uncooked (dried) Adzuki beans
6 cups of vegetable broth
2 tablespoons olive oil
1/2 cup chopped fresh parsley
Salt and pepper to taste
To cook Adzuki beans:
It is best to soak the beans overnight to reduce anti-nutrient levels and make them easier to digest. Put the beans in a strainer and rinse under cold water, removing the deformed beans and any stray particles. Place the beans into a large pot and cover with several inches of water. Soak for at least 8 hours. Drain the beans and rinse again.
To cook, refill the pot with at least three times more water than beans. Bring to boil and simmer for 30 minutes until almost done (they will keep cooking in the soup for another 30 minutes). Once drained and rinsed they are ready to be added to the soup.
To make the soup:
Turn the stove to a medium heat and add olive oil. Once hot, add the onion, carrot, celery, garlic, sweet potato and pepper with a pinch of salt. Cook slowly and stir gently until vegetables are well covered with oil and the onion is soft.
Add the broth and cooked beans. Turn the heat up to high and bring to the boil. Then reduce the heat to simmer, cover and cook about 30 minutes (until vegetables and beans are soft).
If you want to freeze some, do not add the greens, do it when reheating. Otherwise, add the parsley and kale/chard, gently cook for 5 minutes and season with salt and pepper to your taste.
Add a dollop of Greek yoghurt and top with roasted pumpkin seeds to make it extra delicious and nutritious.