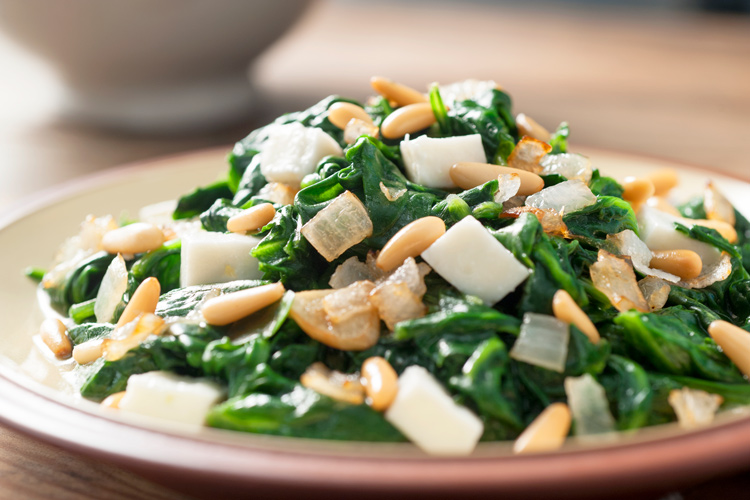 This is a wholesome, nutritious dish that works well as a simple salad or as an accompaniment to a main course. Spinach might not be so appetising on its own, but when paired with the close texture of pine nuts and the rich flavour of onions, it becomes an integral part of a delicious recipe to be made again and again.
Spinach is Popeye's favourite food for a reason: it contains phytoecdysteroids, a plant-derived ecdysteroid which can help build muscle mass and strength. This is not only ideal for men who are having difficulty with testosterone deficiency, particularly during the andropause, but also for women who may be experiencing hormone-related depression or low libido.
Another benefit of spinach is its high iron levels. We have included a splash of fresh lemon juice in this recipe not only to enhance the flavour of the dish, but also to increase the absorption of plant based non-heme iron. This is because the iron from plant sources is not as bioavailable to humans in comparison to iron from animal sources (heme iron).
Makes: 4 portions
Takes: 25 minutes to prepare and cook
Ingredients:
1 tbsp olive oil
1 onion, thinly sliced
25g grass fed butter
25g pine nuts
1 garlic clove
A pinch of freshly grated nutmeg
½ tbsp sherry vinegar
500g bag baby spinach
Sea salt
Black pepper, freshly ground
Fresh lemon juice
Method:
1. Heat the oil in a large, deep pan with a lid. Add the onions and gently cook them for 15 minutes with the lid on until soft. Add the butter and pine nuts, turn up the heat, cook for 5 minutes more or until onions are dark golden. Stir in garlic and nutmeg, splash in vinegar.
2. For the spinach, boil a large kettle of water, then tip spinach into a colander and pour the boiling hot water over it. You may have to do this twice, depending on the size of your colander. As baby spinach is very delicate, this method allows you to clean and cook it in one go and you won't end up with a soggy mess.
3. To serve, toss the spinach with the onion mixture. Serve generously with the salt and pepper, and a splash of fresh lemon juice.