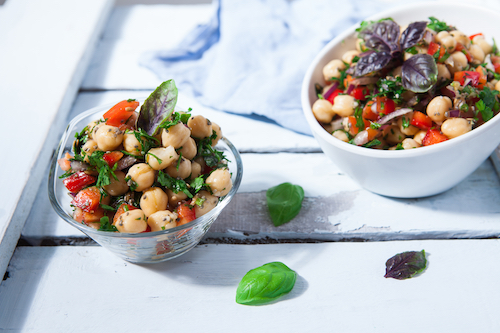 Around two-thirds of the women who are heading into menopause experience hot flushes or night sweats.
Hot flushes may be triggered by hot weather, smoking, caffeine, spicy foods, alcohol, tight clothing, heat and stress. Avoiding these factors can help lessen the severity and number of hot flushes. During the warmer summer months, preparing and eating salads can be a nice alternative for dinner. It is important to balance salads by adding some good quality protein. This also helps to keep you fuller after eating.
This month we have prepared a flavourful and healthy summer salad recipe packed with chickpeas, basil and mint to keep the hot flushes at bay this summer.
Cabbage is a nutrient-dense, low–calorie food providing an excellent source of many nutrients, especially vitamin K, vitamin C, potassium, folic acid, vitamin B6, biotin calcium and manganese. It is also rich in phytochemical called glucosinolate, which is a powerful anticancer compound.
Carrots provide the highest source of provitamin A carotenes of the commonly consumed vegetables. They also provide excellent levels of vitamin K, biotin and fibre, and very good levels of vitamin C and B6, and thiamine. Carrots help to protect against cardiovascular disease and cancer. They also promote good vision, especially night vision and provide protection against macular degeneration.
Fennel is an excellent source of vitamin C, potassium, dietary fibre and is a good source of folic acid. It is often consumed for its medicinal effects (especially for digestive problems) and its phytoestrogens content makes it useful as a remedy for symptoms of menopause.
Radishes are very low in calories and are an excellent source of vitamin C, potassium and folate.  As a member of the cruciferous vegetable family, radishes share the cancer-protective actions of related vegetables, for example, cabbage, kale broccoli and brussels sprouts.
Apple are full of vitamin C, pectin and fibres. Most of the important nutrients are contained in the skin. The insoluble fibre and pectin in apples help to promote bowel regularity, relieving both constipation and diarrhoea.
Mint exerts a wide range of health benefits, the primary application being a carminative (providing relieve from flatulence) and digestant.
Basil is in the same family as mint so it also acts as a good digestive aid. It can also be used as a mild sedative, stress-relief aid and as a treatment for headaches. Basil is a very powerful anti-parasitic herb.
Chickpeas are a good source of protein, but most importantly, they are very high in fibre, which helps to clear waste out of the digestive tract and can give the skin an extra glow. Chickpeas are high in zinc and rich in a rare trace mineral called molybdenum, which can assist in the breakdown of certain environmental and metabolic toxins in the liver.
Seeds and nuts are rich sources of omega 3 and 6 fatty acids and they contain powerful medicinal phytochemicals. They add a nice crunch too!
Recipe – Summer Salad
GF, DF, VEG, V
No cooking required
10 minutes of slicing, tossing and shaking
Serves 2
Ingredients:
¼ cabbage (red, white or green) thinly sliced
2 carrots thinly sliced of shaved into ribbons
1 fennel bulb (reserve fronds) tough outer layer discarded and the inner part thinly sliced
about 5 radishes thinly sliced
1 apple with skin grated
large handful of mint roughly torn
large handful of basil roughly torn
400 g tin chickpeas rinsed and drained
small handful of favourite seeds and/or chopped nuts, preferably dry-roasted (pumpkin, sunflower seeds, almonds, hazelnuts, pistachios etc.)
 Dressing:
½ cup extra virgin olive oil
1/3 cup balsamic vinegar
1 tablespoon dijon mustard
1 garlic clove finely chopped
sea salt (to taste)
freshly ground black pepper (to taste)
pinch of turmeric
Salad:
First, thinly slice the vegetables and grate the apple. Grate the apple last to prevent it from turning brown.
For the dressing, put all the ingredients in a jar with a tight lid and shake well. Taste the dressing and adjust the flavour by adding a little more of any of the ingredients as desired.
This recipe makes about 220 ml of dressing. It will keep in the fridge for about 2 weeks, but it is best served at room temperature.
Put the vegetables, apple, herbs and chickpeas in a large bowl, pour a good drizzle of the dressing over and toss until all the ingredients are well coated (doing it by hand works well). Transfer to a serving platter, scatter with your favourite seeds and enjoy!