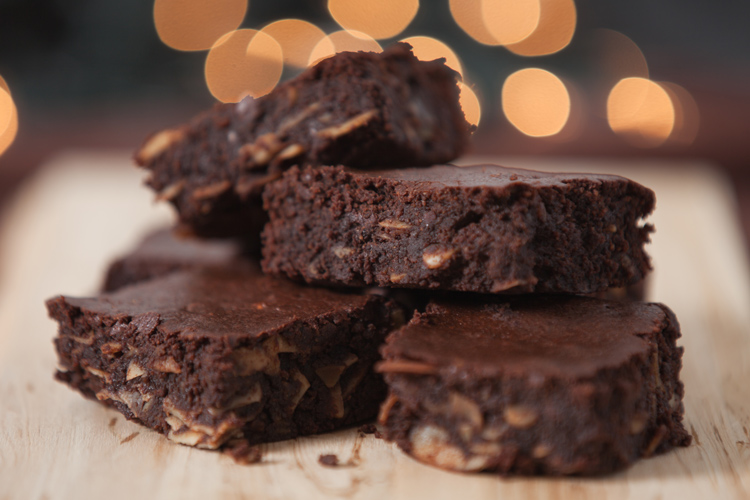 Did you know that prunes have been shown to prevent bone loss and may also have the potential to reverse bone loss that has already occurred? You may not like to eat them on their own, but when incorporated into a recipe they are delicious and still greatly beneficial. And we all know by now (because this is something we really want to believe) about dark chocolate's (70 percent or higher pure cocoa solids) ability to protect against heart disease and stress. It's especially useful for reducing cortisol levels in the body, which can disrupt other hormones when present in large quantities. Combine these two ingredients together, and you have a super healthy brownie recipe – in more ways than one!
Makes: 6 pieces
Takes: 1hr 55mins
Ingredients:
150g 75% dark chocolate
125g grass fed butter
70g raw sugar (slightly less refined than white)
60g almond meal (I used the leftovers from my homemade almond milk)*
125g prunes
Sea salt
Method:
1. Soak the prunes in warm water for 30 minutes and then process in a food processor until creamy (you may have to add water to the processor, so don't throw away the water used for soaking).
2. Break the chocolate into pieces and combine with the butter in a small saucepan. Heat on low heat until melted and smooth. Remove from heat, add the sugar and leave for ten minutes to cool.
3. Break the eggs. Mix the whites and yolks together in a separate bowl and add to the chocolate mixture, then add the prune puree, almond meal and a pinch of salt.
4. Prepare a small ovenproof dish by spreading butter all over it. Pour the mixture into the dish.
5. Bake for 30 to 35 minutes depending on your oven. Leave to cool for at least 20 minutes at room temperature before cutting into 6 pieces.
6. Serve with sprinkles of sea salt flakes, fresh raspberries (my favourite pairing with chocolate) and a very big dollop of freshly whipped cream. It is Christmas, after all, and you have worked very hard to have a healthy and happy Christmas!
*Tip: The leftover almond pulp can be spread over a baking sheet and placed in a warm oven (door slightly open) until it is completely dry, and then stored in an airtight container in a cool place like other dry ingredients.