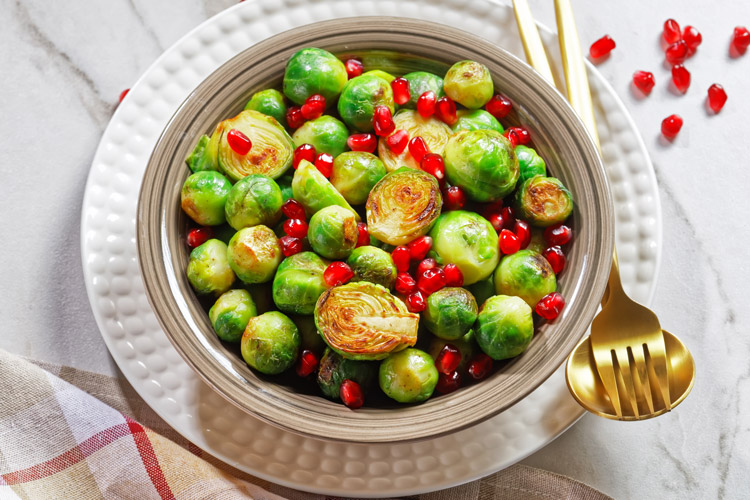 Love them or hate them, there's no denying that Brussel's sprouts are a vitamin-packed addition to any meal… This mini, sweet and tender cabbage is a cruciferous vegetable, which means that it has the fantastic ability of aiding the metabolisation of excess estrogen, helping to prevent estrogen dominance. Our Brussel's sprout recipe is also packed with antioxidants, which help to slow down the effects of ageing as well as protect your body against cancer-causing free radicals.
Sprouts are best eaten in winter when they are seasonally available, as they're sweeter and it's better from a sustainability perspective. This means that they're ideal for adding to your winter table as part of a larger dish or as a side, so why not experiment with them and banish once and for all the idea that sprouts have to be bland and boring?!
We have included delicious pomegranate seeds in this recipe to bring colour and flavour to your dish. Nutritionally, nuts and seeds are pretty amazing: they're a good source of protein, healthy fats, fibres, vitamins and minerals. Mounting evidence suggests that eating nuts and seeds daily can lower your risk of diabetes and heart disease, and may even lengthen your life.
Makes: 4 portions
Takes: 5 minutes to prepare
Ingredients:
3 tbsp olive oil
400g Brussel's sprouts, bigger ones halved
25g grass fed butter
100g pomegranate seeds
Sea salt
Slightly toasted almond flakes and a drizzle of pomegranate molasses to serve
Method:
1. Heat oil and butter in a large frying pan over a medium heat. Add sprouts and sizzle for 10 minutes, checking and shaking.
2. Once you are happy with how the sprouts look and feel, take them off the heat, toss through pomegranate seeds, season with salt and tip into a serving dish. Drizzle with molasses and scatter with almonds.