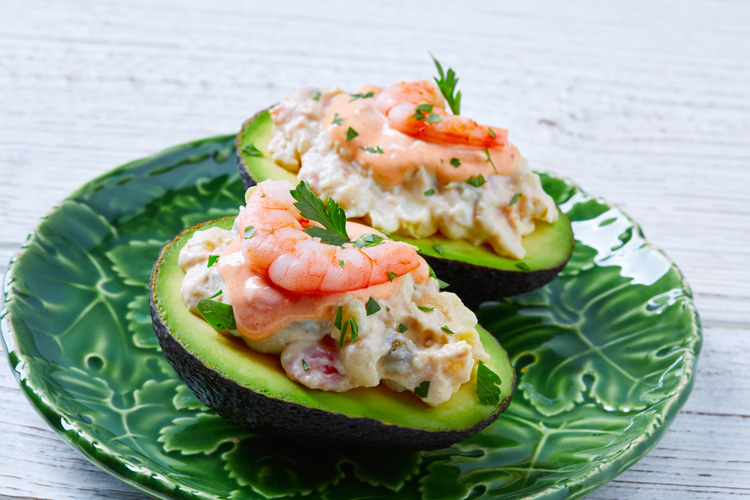 If you feel that you would like to begin lunch or dinner with something more substantial, we suggest a luxurious avocado entrée. Avocados are full of vitamins and minerals and contain high levels of healthy beneficial fats, making us feel fuller between meals.
Prawns are a good source of B vitamins, iron, minerals and lean protein. Caviar is also an excellent source of B12 and the fatty acids DHA and EPA. These fatty acids are well known to support cardiovascular health and are crucial for optimal brain function and development. An inadequate supply may be a factor in developing depression.
Makes: 2 portions
Takes: 10 minutes to prepare
Ingredients
1 large avocado
150 peeled and cooked prawns
4 tsp salmon or trout caviar
1 heaped tbsp mayonnaise of your choice
Fresh lemon juice
Sea salt and freshly ground black pepper
Dill springs to serve
Optional: watercress, sprouts or baby greens of your choice for serving
Method
1. Cut the avocado in half lengthwise. Remove the stone and some of the flesh to make more space for the filling (eat the leftover with some fresh lemon juice and chilli flakes on your favorite toast).
2. Gently stir together the prawns, ¾ of the caviar and mayo. Season with salt, pepper and lemon juice.
3. Fill each avocado half with the prawn and caviar salad, decorate with the leftover caviar, dill springs and pepper, and serve with some extra lemon (and greens).