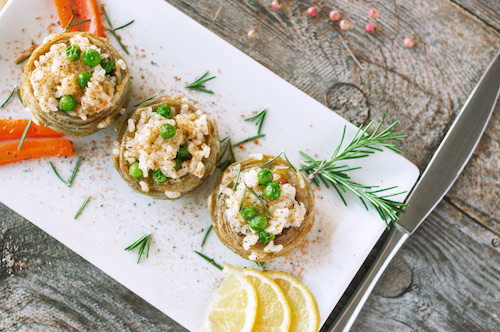 Globe Artichoke is probably one of those vegetables we have seen on the supermarket shelves looking really nice but not getting into our baskets, because we have no idea what to do with it. Thankfully they come fully prepared in jars!
Artichoke is a very powerful liver cleanser. It contains a compound called caffeoylquinic acid, which helps to stimulate the flow of bile from the liver. Bile is a transport medium that the liver uses to carry fat-soluble toxins away for removal via the bowel. This will help the skin, as it can too easily be used as an outlet for removing toxins, which can worsen many skin conditions.
Brown rice is rich in a whole host of compounds that can help to lower cholesterol, ranging from simple dietary fibres through to more complex phytochemicals. It also contains polyphenols which help to protect the inner lining of the blood vessels against damage and it is a very slow release sugar food.
We all have heard about the magic power of chicken broth by now. Fortunately there are so many amazing broths available these days that we do not have to make it ourselves every time. But do not let your leftover roast chicken go to waste!
Green beans (as all beans) are rich in cholesterol-lowering fibre. In addition to lowering cholesterol, the high fibre content of beans prevents blood sugar levels from rising too rapidly after a meal.
Parsley is a very powerful diuretic. It contains a strong essential oil that acts as a mild and harmless irritant to the kidneys' filtration system. This gentle action increases urinary output, which will help the body to remove waste products from the joints far mire quickly. Parsley is just not for decorating and garnish!
Pine nuts provide a high content of monounsaturated fat and arginine. In addition they deliver a hefty dose of magnesium and potassium whose combined effects produce a strong healthy heartbeat, lower blood pressure and improve blood flow.
RECIPE
serves: 2
preparing and cooking time: one hour
INGREDIENTS
340 g jar marinated artichokes, drained and roughly chopped
1 cup uncooked brown rice
1 tbls extra virgin olive oil
1 cup filtered water
1 cup chicken broth
150 g green beans, ends trimmed
¼ cup Italian parsley (flat-leaf), chopped
½ cup toasted pine nuts
METHOD
Rinse rice very well under running water
In a large pan (with a lid) sauté rice in olive oil over low heat for few minutes
Pour water and chicken broth over rice, bring to boil, cover, reduce heat to low and cook until rice is almost done (approx. 35-40 minutes)
Add green beans and keep cooking for another 5-10 minutes, until rice and beans are cooked for your liking
Fluff with fork, stir in artichokes and parsley and sprinkle with pine nuts
Any leftovers could be served over a bed of bitter leafy greens like rocket, chicory and endive for lunch next day. The bitter substance in these greens aid digestion and detoxing.
Little note: while you are waiting for your delicious pilaf to cook, make a small glass of beetroot juice to increase your nutrient intake. Beetroot has a long history as a powerful medicine for liver disorders, given its stimulating effects on the liver's detoxification process.