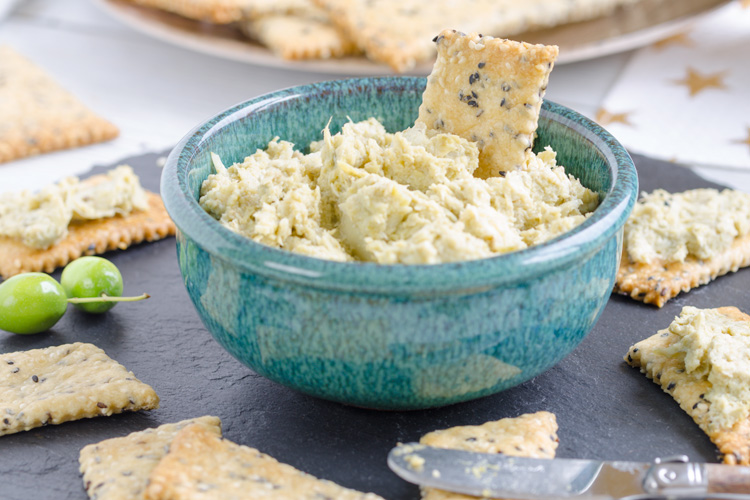 This is a light dish to serve as an hors d'oeuvres before a meal, or as a nutritious snack on any day of the week. It's a great vegan alternative to meat pate, and its main ingredient is an oft forgotten-about vegetable that has incredible health benefits.
Artichoke can be a bit fiddly to prepare, but when bought in a jar it can be tossed into any dish without the extra effort. Artichoke is well known for its ability to lower blood sugar levels post-meal, as well as improving digestion and maintaining liver health. As you may know, your liver facilitates the detoxing of a number of hormones from your body, so keeping it healthy is essential for hormone balancing.
Makes ¾ cup
Takes: 10 minutes to prepare
Ingredients:
340g jar marinated artichoke hearts, drained
½ cup fresh sourdough breadcrumbs
1 tbsp chopped parsley + extra few leaves for decoration
1 garlic clove
1 tbsp good quality extra virgin olive oil (you will taste the olive oil, so buy the best you can)
Sea salt and freshly ground black pepper
Sunflower seeds for decoration
Method:
1. In a food processor, blend the artichokes, breadcrumbs, parsley and garlic. Gradually add olive oil, processing until smooth. Season to taste and sprinkle with sunflower seeds.
2. Serve with toasted sourdough bread and/or crudités (sliced or whole vegetables).
Note: sourdough bread acts like a prebiotic, as the fibre in the bread feeds the "good bacteria" and is easier to digest. It is also lower in gluten than other breads. Recent research has shown that optimising our microbiome (gut health) is the key to keeping our hormones in balance.