From listening to our patients, we know how important it is for you to understand what your own journey might look like with The Marion Gluck Clinic, especially as a first-time patient.
Every patient at The Marion Gluck Clinic receives a unique treatment and medication plan but your patient experience will follow a similar pathway to other patients. We have created this patient journey map below to help you see what a new patient experience might look like and the associated costs. Please note that blood tests are charged separately.
If you're a new patient and would like to book an appointment, please get in touch today.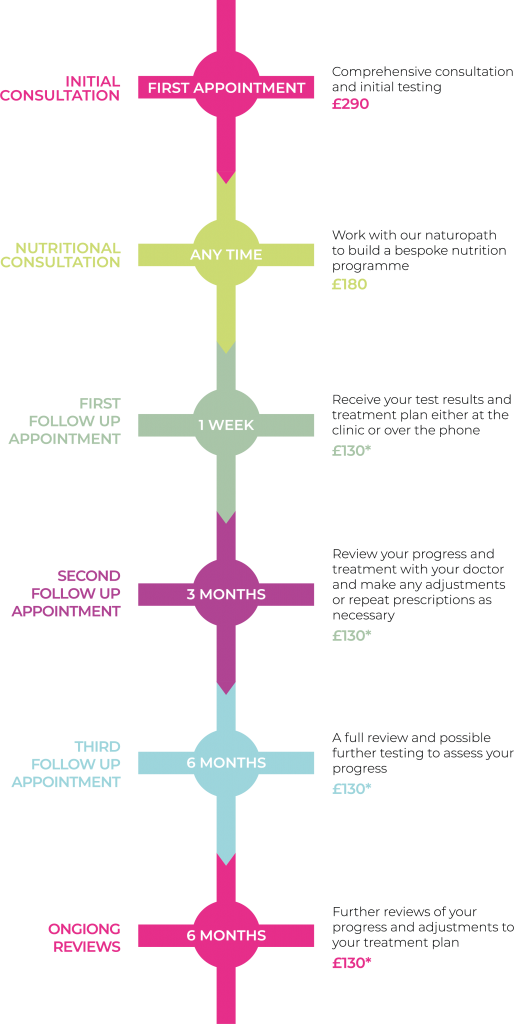 Initial consultation – £290
During this appointment, your doctor will spend time taking a comprehensive history and record of your symptoms.
You will be advised of any blood tests or further testing which may be required. These are charged separately to your appointment.
Bloods may be taken during your consultation.
You will have the opportunity to ask any questions you have about bio-identical hormones and hormonal conditions.
If you have not done so already, you will be advised to book your next follow up appointment.
Initial Naturopathic Consultation (90 mins) – £180 
Follow-up Naturopathic Consultation (60 mins) – £120 
You can book in to see our resident naturopathic expert at any time during your treatment process.
During your consultation, a full nutritional and symptomatic history will be taken.
You will be advised of any testing needed to build your personalised nutritional plan.
After your appointment, you will be provided with a personal plan to address your symptoms, including a plan for your food & supplements.
1 Week Later, first follow-up appointment (face-to-face or via video conference)  – £130 
This consultation can be done in person or over the phone. Your doctor will advise you on what they think is best.
You will receive the results of any blood tests or testing which was carried out at your first consultation.
Your doctor will advise you of any medication needed to address any issues identified by your tests and symptoms.
Your doctor will write & order your personalised prescription (if required).
3 months later (face-to-face or via video conference) – £130 
This consultation will enable your doctor to review your progress with the prescribed medication.
Your doctor will make any required adjustments to your medication.
You can address any questions you may have about your treatment.
Repeat prescriptions will be issued where necessary.
6 months later (face-to-face or via video conference) – £130 
This follow-up will feature a full review of progress, taking into account improvement in symptoms and any other relevant changes.
Your doctor may advise further tests to better see these changes and decide on your treatment plan going forward.
Repeat prescriptions will be issued as necessary.
Ongoing reviews (face-to-face or via video conference) – £130 
You will be required to have a review every six months while undergoing treatment and to attend a physical appointment at the clinic at least once a year.
Your doctor will confirm whether these can be carried out over the phone or need to take place at the clinic.
These reviews enable your doctor to adapt or change your treatment plan and keep track of your symptoms.
Depending on your treatment or condition, further tests may be advised at these appointments.
Blood tests  
During your treatment at the clinic, your doctor may require a number of tests. These enable them to gain a full picture of your health and hormones, and the results will influence your personalised treatment plan. Please note that blood tests are charged separately to your appointment.
Thyroid profile from £90
Biochemistry profile from £300
Male or female hormone profile from £295
Food Inflammation Test, £300
Pelvic Ultrasound, £170
Your doctor may also advise other tests, such as a mammogram, depending on your symptoms and test results. We work with a number of trusted partners who are able to provide these tests and you will be advised of these when necessary.
Documents & Emergencies
During your treatment programme, there may be times you require information or contact with the clinic.
Repeat prescription without an appointment  £25
Obtaining patient records £30 (Please allow 30 days from request.)
Letter/ Medical report £30-£50
Please note the Marion Gluck Clinic does not accept cash, cheques or bank transfers. We accept all major credit cards including AMEX.